Director: Iluta Lāce
URL: www.marta.lv
MARTA Centre's mission is to advocate for women's rights, the improvement of the socioeconomic situation of women and children and to create a secure and safe environment by promoting mutual support, understanding, and solidarity between women, regardless of age, ethnicity, or socioeconomic status.
MARTA's fundamental goal is to build a gender equal civil society and serve women and children, advocating for their rights.
To reach this goal, MARTA Centre has defined the following objectives:
Enhance social integration of women, youth and children by reducing social and ethnic tension, gender-based violence and human trafficking, offering creative solutions for problems.
Monitor policy processes, initiate amendments in legislative acts and policies, changing courts` practice according to international human rights standards;
Strengthen and support women's community activism by educating women, young people, officials, decision makers, women organisations and other important stakeholders on national and international levels, enabling women's voices to be heard by decision-makers, strengthening women's rights advocacy globally.
Involve men to act as allies in work for gender equality.
Team

Ms. Iluta Lāce – Senior Expert, Latvia
Contact: iluta@marta.lv
Iluta Lāce is the founder of MARTA Centre, currently the Centre's director and board member. She is a leading expert in Latvia in the field of domestic violence and human trafficking, providing expertise on local and global context on domestic violence and human trafficking, knowledge of theory on preventing and combatting domestic violence and human trafficking as well as strategies for raising awareness and service provision. She is actively engaged in lobbying for necessary changes in the Latvian legislation regarding women's rights and violence against women, especially sexual exploitation. Before zeroing in on the issues of women's rights she has worked with youth and homeless children as a social worker.
She has been the vice president of the European Women's Lobby. In 2014 she was awarded a prize for her contribution towards furthering women's rights by the Finnish government.
Ms. Lelde Vaivode – Project manager, Latvia
Contact: lelde@marta.lv
Lelde Vaivode is an experienced project manager who has coordinated projects in various areas – education, culture and environmental protection – before focusing firmly on social justice as her preferred field of work. An anthropologist by education, Lelde has a long-standing interest in issues of gender equality and feminism, and her academic knowledge and experience in gender and sexuality studies is an asset when planning, developing and implementing projects at MARTA Centre. She volunteers as an administrator of an online platform for discussing topics related to women's rights, the Latvian Feminist forum on Facebook. Lelde has also worked as a teacher and is an alumna of the Teach for All partner in Latvia Iespējamā misija (Mission possible), which won the European Citizens' prize in 2018.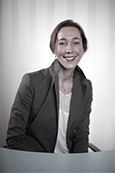 Ms. Gundega Tentere – Public relations specialist, Latvia
Contact: equal@marta.lv
Gundega Tentere is a professional journalist with 20 years of experience working in various types of media – printed press, radio and TV – in Latvia, Switzerland and Germany. During the period of her active engagement in journalism, Gundega felt an urge to take part in socially responsible projects, becoming the coordinator for a project supporting street children and later, having gained the necessary knowledge regarding professional public relations, she participated in starting a project on developing local philantropic activity for the NGO Centrs Dardedze as well as established professional internal and external communication for the NGO. She has been working as a public relations specialist at MARTA Centre for over 10 years, taking part in international projects, providing expertise both on gender equality issues and efficient communication. Gundega holds a master's degree in social science and has been a lecturer in multiple institutions of higher education in Latvia; she is the author of the teaching material "Žurnālistikas pamati" ("The Basics of Journalism"). She has received a scholarship by the USA State Department.