UNIVERSIDAD AUTONOMA DE MADRID
Web site: http://www.uam.es/
University Autonomous of Madrid (UAM) is a young Spanish University that has achieved an outstanding national and international reputation for its high-quality teaching and research (10th worldwide position in the QS Top 50 Under 50 and the first Spanish university in the QS World University Ranking 2018/2019 -159th worldwide position). Since 2009, has the recognition as International Excellence Campus (with the Spanish Research Council-CSIC-).
RE-TREAT project is worried about How well do criminal justice systems treat survivors of sexual violence? & How to improve it? To address these questions, UAM team joins the Law Faculty & the Faculty of Psychology in a group of multidisciplinary experts (legal and psychologists).
The Law Faculty is among the most important Law Faculties in Spain and one of the best in Europe. It offers several Degrees, Double Degrees and Postgraduates in Law, Political Science Law and Business Administration and Management. Also, International Studies in collaboration with the Universities of Strasbourg, Maastricht or the Bordeaux Institute of Political Studies. A leader in research, its members enjoy an enormous reputation. Collaborate with the best Law Firms in Madrid and with the main institutions and public entities in the country.
The Faculty of Psychology offers an undergraduate degree in Psychology, five Master programs and two Doctorate programs. Research covers a wide range of areas, with several research groups on experimental psychology, clinical psychology, developmental psychology, education, social psychology, human resources, psychosocial intervention, and methodology.
Prof. Sabela Oubiña Barbolla
Contact: sabela.oubinna@uam.es
Sabela Oubiña Barbolla (Pontevedra, 1976) is an Associate Professor of Procedural Law at Autonomous University of Madrid and coordinator of the UAM's Re-Treat team.
Law Degree from the Complutense University of Madrid (1994-1999), she holds a PhD in Procedural Law from Carlos III University of Madrid since 2008. Her thesis about The functioning of the Spanish Constitutional Court (Excellent Cum Laude) received the Best Thesis Award in Law & Social Sciences of the Spanish PhD Real Academy (2008) and the Extraordinary Doctorate Award at the Carlos III University (2007-2008).
Currently, she is also participating in other research projects: Fighter against International Terrorism (funded by EU Commission); Limits to the use of data, evidence and information between different processes and procedures in Spain and the EU (funded by Spanish Government).
Her main line of research is 21st Century Challenges in Criminal Process. In this framework, her publications focus on: precautionary and protection measures; technological criminal investigation; Review of wrong convictions; European judicial cooperation in criminal matters; justice administration policies, Indicators of Justice; etc.
She has visited several European Universities under different roles (visiting fellow, professor guest/visiting, etc.): Birmingham, Coimbra, EUI-Florence, MSLA-Moscow, Messina, Perugia, Poitiers, Utrecht, Warsaw; etc.
Very committed to legal education, she has been involved in quite a few teaching innovation projects and quality commission. 
Lawyer of the Madrid Bar Association. Advisor for the Conference of Ministers of Justice of the Ibero-American Countries. Member "Alonso Martínez" Institute of Justice & Litigation. Peer Review of several Legal Journals. Previous experience as Judge in a 1st Instance and Investigation Court in Spain (Úbeda-Jaén & Posadas-Córdoba).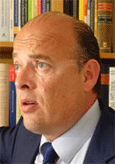 Prof Manuel Cancio Meliá
Contact: manuel.cancio@uam.es
Manuel Cancio Meliá (1967, México, D.F.) is a Full Professor of Criminal Law at Autonoma University of Madrid since 2008. Doctor honoris causa by several Latin American Universities.
Member and Counsel of: Criminal Law Section of the General Codification Commission (2015); Georg Forster Selection Committee of the Alexander von Humboldt Foundation (2014); Criminal Law Section of the Royal Academy of Jurisprudence and Legislation (2005).
Among his works, monographs on victim's behaviour relevance in criminal law (which was his doctoral thesis, Conducta de la víctima e imputación objetiva, 1998, 2nd ed. 2001), on terrorism offenses (Los delitos de terrorismo: estructura típica e injusto, 2010); Discurso de odio y/o discurso terrorista (with Juan A. Díaz), 2019, and the so called "enemy criminal law" (Derecho penal del enemigo, 2003, 2nd ed. 2006, together with G. Jakobs), and his participation in several commentaries of the Spanish penal code are to be highlighted. Other publications (books, chapters, articles, case discussions), regarding Criminal Law principles, Criminal Law legal dogmatics, compared Criminal Law studies, European Criminal Law and several single offences (sexual crimes, terrorism, personal injuries, crimes against the environment, organised crime), have been published in Spain, most countries of Latin America, Germany, the United States, Italy, Portugal, Great Britain, Belgium, Finland, Turkey, Taiwan, China and Ukraine.
He has been a member of and responsible researcher for a series of Spanish and European funded research projects in Criminal Law. 
Member of the advisory boards of several Spanish, German, Canadian and Latin American Journals on Criminal Law.
Margarita Diges Junco
Margarita Diges Junco is a Full Professor of Psychology at UAM, since 1993. She holds a PhD in Psychology from the University of Santiago de Compostela, since 1980. 
She lead successfully numerous competitive national projects, involving large research teams from different Universities, e.g.: "Suggestion effect on children: Differences between Theory of Mind and its effects on memory and on the discrimination of the origin of memories"; "Suggestive interviews with children"; "Accuracy, lie, and credibility for the eyewitness accounts"; Reliability of the memory for traffic accidents". 
Her vast publications includes particularly topics like: Forensic investigative interviews with children allegedly victims of sexual abuse; the utility of the psychology of the testimony at the stage of evidence's evaluation; the problem of credibility; etc. 
She has participated in large number of Congress, Conference, Meetings, e.g.: Annual Congress of the Spanish Society of Law and Psychology; Annual International Conference of Law and Psychology (Cracovia, Siena, Budapest, Oxford, Nuremberg, etc.).  
Member of the European Association of Psychology and Law (EAPL). Founding Member of the Spanish Society of Experimental Psychology (SEPEX). Member of the Scientific Editorial Board of: the international Journal Psicological and the national journal Anuario de Psicología. Evaluator of research projects for official agencies (national and regional). Peer review for several national and international scientific Journals.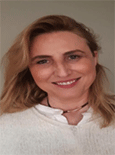 Dr Candela Galán González
Contact: candela.galan@uam.es
Candela Galán González holds a PhD from Universidad Autónoma de Madrid (UAM) since 2003, which received the Extraordinary PhD Award. From year 2009 is a tenured Professor of Procedural Law in the same university. 
She has visited several South American universities as a visiting professor (Bolivia, Argentina, Chile). She has been an active participant of different national and international research projects. 
She has been appointed for different management roles at UAM: Vice dean of Postgraduates Studies; etc. Currently is a member of the examining Board of the competitive examinations to the Administration of Justice.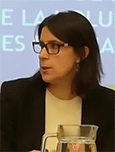 Prof Alicia González Alonso
Contact: alicia.gonzalez@uam.es
Alicia González Alonso is Associate Professor of Constitutional Law at the Autonomous University of Madrid (Universidad Autónoma de Madrid). She lectures there since 1997. Her PhD thesis, called La tutela jurisdiccional de los derechos del artículo 24.1 de la Constitución Española, deals with the protection of those rights included in article 24.1 of the Spanish Constitution (mainly the right to obtain the effective protection of the Judges and the Courts in the exercise of the legitimate rights and interests). She was awarded the prize for the best doctoral thesis of the Autonomous University Law Faculty and the Nicolás Serrano prize for the best Constitutional Law PhD thesis given by the Constitutional and Political Studies Center in the year 2012. 
She is Deputy Director of the Administrative Justice Research Center (www.cija-uam.org). Her main research is on the protection of fundamental rights by judges and the Constitutional, supranational and international courts, with a special focus on the rights of those taking part in legal proceedings before a court. She has collaborated with different competitive research projects having to do with central Constitutional Law issues. In January 2018 she got a delegation mandate to work for the UAM Rector in mediation and prevention Programmes (she is Rector's Delegate).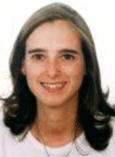 Dr Nieves Pérez-Mata
Contact: nieves.perez@uam.es
Nieves Pérez-Mata holds a PhD from Universidad Autónoma de Madrid (UAM) since 2000, which received the Lafourcade Ponce Foundation Award. She is currently a professor in the Faculty of Psychology. She teaches Psychology of Memory and Expert Testimony on Eyewitness Evidence in the undergraduate programme on Psychology, and Forensic Evaluations of Children: The Assessment of Statement on the postgraduate programme of Psychology of Education (content area: Children and Adolescent in Risk). 
Her research interests have focused on memory and suggestion, and in its knowledge transfer to the applied context of eyewitness and victim testimony. Currently, she also works as an expert eyewitness, and is co-director of the Experimental Forensic Psychology Unit (UPFE – FUAM), where research projects, training plans, and forensic experts held. She has participated in various competitive research projects and has visited various Canadian universities as a researcher

Prof José Alberto Revilla González
Contact: alberto.revilla@uam.es
José Alberto Revilla González is a tenured Professor of Procedural Law at Autonomous University of Madrid, since 2001. He holds a PhD in Law from Carlos III University, since 1994. He regularly participates in several Postgraduate Studies at Latin American Universities: Gabriel René Moreno University (Bolivia), "José Simeón Cañas" Central American University (El Salvador), Itsmo University (Guatemala) and Technological University of Honduras. Likewise, courses and conferences at the University of Havana (Cuba), Montevideo (Uruguay), University of Aquino (Bolivia), Urbino (Italy) and Uniwersytet Wroclawski (Wroclaw-Poland). Director of the project "The transformation of civil justice in Ibero-America: contents and challenges ", convened by the Center for Latin American Studies (CEAL) UAM. Several publications about civil proceedings, criminal proceedings and alternative dispute resolution. 
Visiting fellow in several Universities and research Centers: Ferrara (Italy), Studi di Urbino "Carlo Bo" (Italy), Pantheon-Sorbonne Paris I (France), Royal Complutense College of Harvard, Harvard University (USA). Vice-Dean of the Law Faculty at UAM (2001-2003) & Deputy Director of the Department of Private, Social and Economic Law at UAM (2005-2010).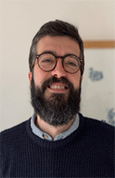 Dr Daniel Rodríguez Horcajo
Contact: daniel.rodriguez@uam.es
Daniel Rodríguez Horcajo did his LLM at Universidad Autónoma de Madrid (LLM in European Union Law) and Universidad de Sevilla (LLM in Criminal Law). He holds a PhD in Criminal Law from Universidad Autónoma de Madrid since 2015, which received the Extraordinary PhD Award of that course. Currently Daniel works as a lecturer and researcher in Criminal Law at Universidad Autónoma de Madrid (Department of Public Law and Philosophy of Law) and he is the Academic Secretary of his Department. 
He has visited various European universities and research institutes as a visiting fellow, like Ludwig-Maximilians-Universität München or Max-Planck-Institut für auslandisches und internationales Strafrecht (nowadays, called Max-Planck-Institut zur Erforschung von Kriminalität, Sicherheit und Recht). 
His research interests include the theory of punishment and, in general, the legal consequences of crime (confiscation, security measures,etc.); the Philosophy of Criminal Law; the European and International Criminal Law; and different specifics crimes, like abortion or crimes against the administration of justice.

Dr Soledad Torrecuadrada García-Lozano
Contact: s.torrecuadrada@uam.es
Soledad Torrecuadrada García-Lozano completed her PhD thesis with Cum Laude at the Autonomous University of Madrid (UAM) in 1996, where she is tenured Professor of International Law since 2000 and accredited Professor (2012).
In addition to teaching at the UAM she gives courses at other Spanish universities and has been invited to teach at European and American Universities. She currently directs a research project entitled "New challenges of the International Court of Justice as a mechanism for the peaceful resolution of international disputes", which is funded by the Spanish Ministry of Science and Universities. 
She has authored five monographs, co-authored one monograph, and co-edited two books, as well as published more than sixty book chapters and journal articles. 
Her research areas are international dispute settlement, sexual violence in wartime, human rights of vulnerable groups (children, migrants, women…).